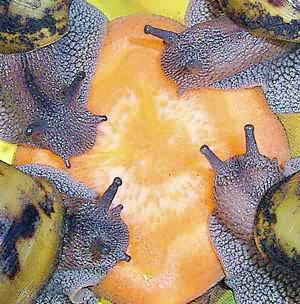 Hello!
My name is Yurii Yashin. I live in Russia, in Moscow. Since the middle of July 1999 I've been keeping Achatina snails. They live and breed in my house.
Why snails? I've always had an interest in them. I am curious to watch them. Snails are amazing!
How nice they stir their introverts and how majestic move their heads!
One says fish watching is relaxing never've seen snails! :-)
Some of my snails' shells have reached about 17 cm so far and are still growing fast. From the beginning I kept two Añhatina species only - Achatina fulica and Achatina glutinosa, though I am in some doubt about the last name.
Later I have got some more species of snails - Achatina iredalei, Achatina immaculata, Archachatina marginata and Achatina achatina.
After a time I managed to buy some also very interesting species of Achatina.
Now I keep thirteen species and some more varieties of these marvellous gasteropoda molluscs.
You can see photos of my snails by clicking on the button in the left of a screen.
There are a lot of images in this site - sometimes you should wait while downloading pages.
I am interested in buying others species fo Achatina. If somebody can help me in this, please, contact me: Achatina.RU
I am neither biologist, nor zoologist, that's why comments to photos are only my personal opinion. Your remarks and observations will be thankfully received. Probably, you could recommend me some literature on Achatina snails.
You can read here (Russian) or here some information on snails Acahtian keeping as pets.