Songs of Achatina snails
Snails can sometimes reproduce various sounds reminding sharp or lingering squeak, singing, muffled mutter - in general, they can "sing".
Here is the record of such sounds, in МР3 format. I didn't do anything with these "songs", except for amplification of a signal.
The snail Sofia performs:
The origin of these sounds is rather simple. In a quiet condition the body (leg) of a snail goes beyond its shell a little. Its respiratory aperture is open and air easily comes to lungs. When the snail, for example, is frightened, edges of a respiratory aperture are closed, and the body of a snail draws into a shell. Air under pressure leaves through the closed respiratory aperture, forcing his edges to vibrate.
By the same principle vocal chords of the person and many animals work.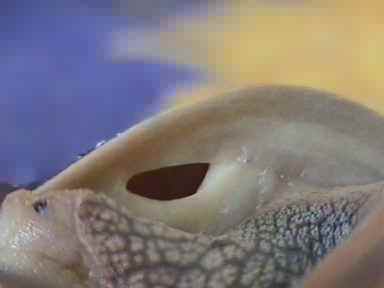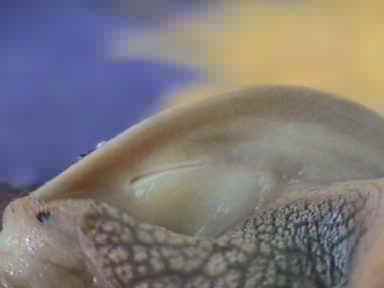 In pictures: on the right - the respiratory aperture of a snail Achatina snail is open, on the left - it is closed, and the snail can produce a sound.